Bonne année 2017! Au cours de l'année 2016, je me suis donnée comme défi de repérer des articles, des mémoires et des thèses qui touchent à la culture populaire et à l'étude des fans. Ce défi étant maintenant complété, j'ai préparé pour vous une liste réunissant ces documents, classés par thèmes. Il n'a pas été facile de placer certains articles dans une seule catégorie, mais j'ose espérer que cette sélection vous aidera dans vos recherches ou dans la poursuite de vos intérêts personnels.
En passant, si vous avez envie de m'encourager et de recevoir une partie de la prochaine liste avant tout le monde, je vous invite à vous abonner à mon compte Patreon, dont le lien se trouve sur cette image!

[Dernière mise à jour : 2 janvier 2020]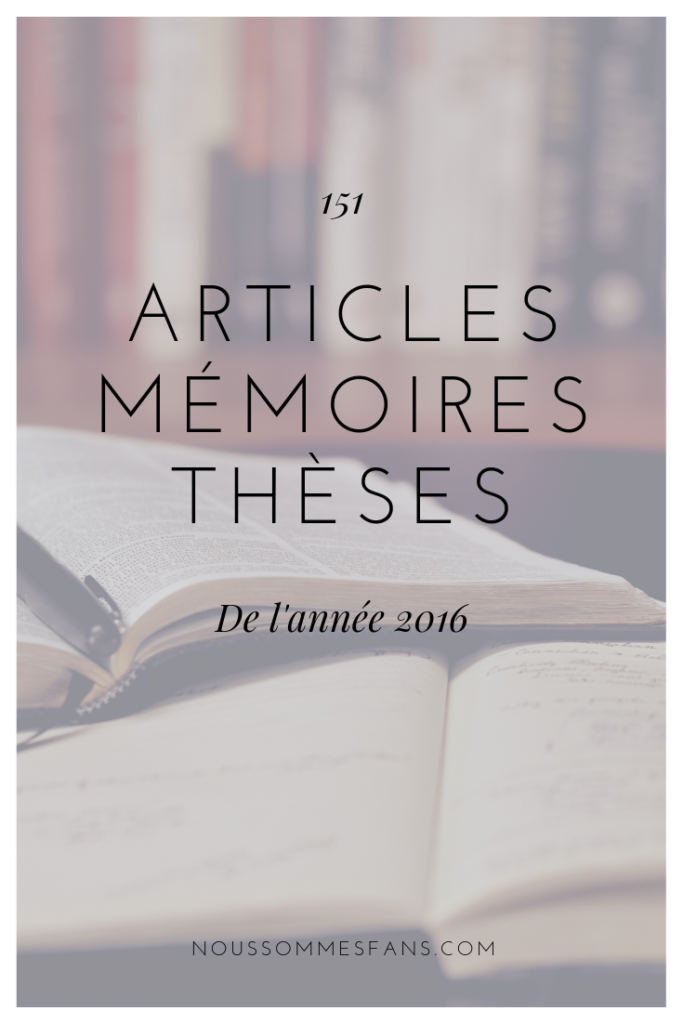 Animes et mangas
FABRETTI, Matteo. « The Use of Translation Notes in Manga Scanlation »
JAWOROWICZ-ZIMNY, Aleksandra. « Manga/anime Conventions in Poland : The Example of Japanicon 2015 »
LAFFAGE-COSNIER, Sébastien. « Diffusion of Japanese Sports Anime in France: Assessment and Review of Issues »
LEE, Anne. « A Centaur in Salaryman's Clothing: Parody and Play in est em's Centaur Manga »
NORO, Andre. « The Otaku Culture in Brazil: The Brazilian Manga, the Impact in the Medias and the Cultural Miscegenation Processes »
MARSHALL, Robert C. « What Doraemon, the Earless Blue Robot Cat from the 22nd Century, Can Teach Us About How Japan's Elderly and Their Human Caregivers Might Live with Emotional Care Robots »
MASON, Michele M. « Dishing out Silver Spoon: Agricultural Tourism in the Tokachi-Obihiro Area of Hokkaido »
SABRE, Clothilde. « French Anime and Manga Fans in Japan : Pop culture tourism, media pilgrimage, imaginary »
TSANG, Gabriel F. Y. « Beyond 2015 : Nihilism and Existentialist Rhetoric in Neon Genesis Evangelion »
Cinéma
ARJANA, Sophia Rose. « Filming Iran: Argo and the 1979 Revolution in Hollywood Film »
BARKER, Martin et Ernest MATHIJS. « Introduction: The World Hobbit Project »
BARMEYER, Christoph et Jorg SCHEFFER. « Over 50 Years on Culture's Service? Intercultural Competence and the Representation of Foreign Realities in James Bond Films »
BELGRAD, Daniel et Ying ZHU. « Dancing with Knives: American Cold War Ideology in the Dances of West Side Story »
BENCHIMOL, Elise. « « Fantasia », « The Land Before Time », « Dinosaur » : la fin du monde pour les enfants »
CHARLERY, Hélène. « HBO's Black Women Artist Biopics: The Josephine Baker Story and Introducing Dorothy Dandridge »
CLAY, Jennifer L. « Sticking to the Script: Sexual Scripts in the Slasher Sub-Genre »
DA SILVA, David. « « Creed » ou l'indispensable transmission de Sylvester Stallone »
HARRISON, Justin Sean. « Living in the Wasteland: Character, Worldbuilding and Humanism in the Mad Max Series »
HULSEY, Hilary. « Just another fan of yours : renegotiating Judy Garland's star status and contemporary fandom »
KIES, Bridget. « A Red Rood of Her Own : Dominants, Submissives, Fans, and Producers of Fifty Shades of Grey »
O'NEIL, Patrick. « Investigating the 1980s Hollywood Teen Genre: Adolescence, Character, Space »
PARSONS, Elise M. « "Drawing Is Where The Joy Is": Cultural Anxiety, the Monstrous Fantastic, and the Artist as Mediator in Katsuhito Ishii's The Taste Of Tea »
SCHOLTES, Eveline. « Translating Humour: A Case Study of the Subtitling and Dubbing of Wordplay in Animated Disney Films »
WHITEHEAD, Jessica Leonora. « Local newspaper movie contests and the creation of the first movie fans »
Comics
DAVIES, Joseph P. « The Marvel Cinematic Universe (MCU): The Evolution of Transmedial to Spherical Modes of Production »
GABILLIET, Jean-Paul. « Reading Facsimile Reproductions of Original Artwork: The Comics Fan as Connoisseur »
LLOYD, Michelle Anne. « Will The Real Captain America Please Stand-Up: Redefining the Patriotic Hero Post-9/11 »
LUND, Martin. « 'Introducing the Sensational Black Panther!' Fantastic Four #52–53, the Cold War, and Marvel's Imagined Africa »
MURPHY, Katherine J. « Analyzing Female Gender Roles in Marvel Comics from the Silver Age (1960) to the Present »
STUCKY, Mark D. « The Superhero's Mythic Journey : Death and the Heroic Cycle in Superman »
VAN DE WATER, Wesley Colin. « The Bat and the Spider: A Folkloristic Analysis of Comic Book Narratives »
Communautés
ARAGON, Cecilia, Julie Ann CAMPBELL, Katie DAVIS, Abigail EVANS, Sarah EVANS, David P. RANDALL et Kodlee YIN. « More Than Peer Production: Fanfiction Communities as Sites of Distributed Mentoring »
BARNES, Naomie. « Killer Fandoms Crime-Tripping & Identity in the True Crime Community »
CULLEN, Peter Bryan. « True Believers: Stan Lee and the Legitimization of the Comics Fan Community »
DUNN, Samantha. « Fandom and fiction : adolescent literature and online communities »
GRIFFITHS, Scott, Marianna SZABO, Niko TILIOPOULOS et Daniel WHITE. « Look Up in the Sky : Latent Content Analysis of the Real Life Superhero Community »
HEIM, Caroline. « Broadway Theatre Fans: communities of narrators and translators »
MCLELLAND, Mark J. « 'Not in front of the parents!' Young people, sexual literacies and intimate citizenship in the internet age »
MORIMOTO, Lori Hitchcock. « Sherlock and Global Transfandom »
PRICE, Ludovica. « « Being in a knowledge space »: information behaviour of cult media fan communities »
TURNER, Simon. « Making Friends the Japanese Way: Exploring yaoi manga fans' online practices »
TURNER, Simon. « Yaoi online : the queer and affective practices of a yaoi manga fan community »
YUE, Xiao Ping. « The re-construction of identity and gender in the emerging digital youth culture : a case study of the Chinese online gaming community »
Culture Internet
AVRIYANTY, Ria. « Analysis of Audience Reception on Youtube toward Gender Construction in the Music Video If I Were a Boy by Beyonce Knowles »
CROWELL, Robin April. « Gender Bias and the Evaluation of Players: Voice and Gender in Narrated Gameplay Videos »
DEMEO, Elizabeth. « Fandom and Social Media Marketing. Looking at Doctor Who Tumblr Engagement Through the Lens of Participatory Culture »
DYNEL, Marta. « « I Has Seen Image Macros! Advice Animal Memes as Visual-Verbal Jokes »
HIDALGO-MARÍ Tatiana et Cande SÁNCHEZ-OLMOS. « From the couch to the desk : study of gender interactions around Spanish TV series on YouTube »
SHORT, Dean Howard. « SuperWhoLock : A Analysis of Subculture in a Microblogging Setting »
SCHROEDER, Kylie. « "After Ever After": Social Commentary through a Satiric Disney Parody for the Digital Age »
Féminisme
BROWN, Matthew J. « Love Slaves and Wonder Women: Radical Feminism and Social Reform in the Psychology of William Moulton Marston »
BRUCKMAN, Amy S., Casey FIESLER et Shannon MORRISON. « An Archive of Their Own : A Case Study of Feminist HCI and Values in Design »
GERAGHTY, Christine et Elke WEISSMANN. « Women, soap opera and new generations of feminists »
HERNANDEZ, Yessica Garcia. « Intoxication as Feminist Pleasure : Drinking, Dancing, and Un-Dressing with/for Jenni Rivera »
HILL, Sarah. « The Ambitious Young Woman and the Contemporary British Sports Film »
WOOLBRIGHT, Lauren. « Identity Design: Challenging Archetypes with Feminist Approaches to Video Game Design »
Harry Potter
BUCHANAN, Mark Alexander Currie. « How alcohol use in J. K. Rowling's Harry Potter perpetuates Victorian traditions of racism, sexism, and classism »
DUKES, Tyler. « Sacred Time and Ritualistic Behavior at Harry Potter Book Releases and Film Premieres »
JOHNSON, Melissa C. « Wands or Quills? Lessons in Pedagogy from Harry Potter ».
Jeux
AAMOT, Brittany, Jane HEWES, Erica SCHALY, Jennifer SIBBALD, Kayla URSULIAK et Pam WHITTY. « Unfreezing Disney's Frozen through Playful and Intentional Co-authoring/Co-playing »
DUNGA, Patrick. « Go Run Your Little World : Role Playing in the Firefly Universe » de Patrick Dugan
HERRON, Joanna et Douglas MAYNARD. « The Allure of Struggle and Failure in Cooperative Board Games »
MAVRIDOU, Orion. « Playful Fandom: Gaming, Media and the Ludic Dimensions of Textual Poaching »
NICHOLSON, Scott. « Emergence or Convergence? Exploring the Precursors of Escape Room Design »
ŠVELCH, Jan. « Platform Studies, Computational Essentialism, and Magic:The Gathering »
TRAMMELL, Aaron. « How Dungeons & Dragons appropriated the Orient »
Jeux vidéo
AMES, Morgan G. et Jenna BURRELL. « 'Connected Learning' and the Equity Agenda: A Microsociology of Minecraft Play »
ARCHER, Daniel L. « The Texts We Play: Avatar Creation and Racial Invisibility in Role-Playing Video Games »
CHARLES, Christopher. « Keeping Quiet: Investigating the Maintenance and Policing of Male-dominated Gaming Space »
DAVIES, Elizabeth. « Bayonetta: A Journey through Time and Space »
DESHBANDHU, Aditya. « Player Perspectives: What It Means to Be a Gamer »
GARDA, Maria B. et Paweł GRABARCZYK. « Is Every Indie Game Independent? Towards the Concept of Independent Game »
HILLS, Matt. « LEGO Dimensions meets Doctor Who : Transbranding and New Dimensions of Transmedia Storytelling? »
MEDA-CALVET, Ignasi « Bugaboo: A Spanish case of circulation and co-production of video games »
RECHER, Kevin. « Game Over… and then? The Representation of Death and the Afterlife in Videogames »
ROGERS, Matthew J. « « Vidya games are for nerds like us » : Identity Deployment in the GamerGate Controversy »
RUGHINIȘ, Cosima, Răzvan RUGHINIȘ et Elisabeta TOMA. « Three Shadowed Dimensions of Feminine Presence in Video Games »
SINERVO, Kalervo A. « Gotham on the ground : transmedia meets topography in the environments of the Arkham videogame series »
TRANG, Victoria Huu. « Narrative strenghts, issues, and complications of graphic novels and video games »
TRÉPANIER-JOBIN, Gabrielle. « Differentiating Serious, Persuasive, and Expressive Games »
VIAMONTE, Connie M. « You Crit Like a Girl : the Performance of Female Identity in the Virtual Gaming Community World of Warcraft »
VOORHEES, Gerald « Daddy Issues: Constructions of Fatherhood in The Last of Us and BioShock Infinite »
LGBT
DODD, Janice G. et Liz MILLWARD. « Mid-course correction : 'Don't ask, don't tell' and Stargate SG-1 femslash »
GRAHAM, Chelsea. « Defanged and Desirable : an Examination of Violence and the Lesbian Vampire Narrative »
KIES, Bridget. « First Comes Love, Then Comes Marriage: (Homo)Normalizing Romance on American Television »
MARIS, Elena. « Hacking Xena: Technological innovation and queer influence in the production of mainstream television »
SIMPSON, Jayne M. « 3 Halves of a Whole: Homosexuality and Self-Acceptance in BBC's Sherlock »
SHUSTER, Robin. « Reconsidering Girl-on-Girl : Reading Transgressive Lesbianism on Buffy the Vampire Slayer »
WARMAN, Brittany. « I Am the Wolf: Queering 'Little Red Riding Hood' and 'Snow White and Rose Red' in the Television Show Once Upon a Time »
Littérature
BASU, Balaka. « Virgilian fandom in the Renaissance »
BUDIN, Noémie. « Le Petit Peuple Féérique en littérature de jeunesse : passeur de frontières entre les mondes »
DUVEZIN-CAUBET, Caroline. « Elephants and Light Fantasy: Humour in Terry Pratchett's Discworld series »
HANDEL, Katharine. « Medieval Jesus Fan Fiction »
STEPHAN, Matthias. « Do you believe in magic? The Potency of the Fantasy Genre »
STOVALL, Tommi R. « To Kill A Mockingjay: An Ideological Criticism of The Hunger Games »
Masculinité
ASSELIN, Soline. « « Les hommes maigres sont de rudes hommes ». Étude des fictions viriles dans « Le Ventre de Paris » »
BOURGET, Jason Bruce James. « Making the Men of Tomorrow: American Science Fiction and the Politics of Masculinity, 1965-1974 »
HOWSON, Richard et Brian YECIES. « The Role of Hegemonic Masculinity and Hollywood in the New Korea »
MORGAN, Ashley. « The Rise of the Geek: Exploring Masculine Identity in The Big Bang Theory (2007) »
TAIT, R. Colin. « The Screwball Bromance: Regression, Bisexuality, and Reconfigured Masculinity in Step Brothers »
TESORO, Matthew. « Screening Male Crisis : A Comparative Analysis of the Alternative Coming-of-Age Motion Picture »
Musique
AVERY, Lanice R., Lolita MOSS, Dilara ÜSKÜP, L. Monique WARD « Tuning Gender : Representations of Feminity and Masculinity in Popular Music by Black Artists »
KLUNGNES, Kristina Mariell Dulsrud. « "Driver Picks the Music" Supernatural – A Journey With Music as Fuel »
MORE, Noëlie. « Les deux derniers films Harry Potter : marqueurs sonores et thèmes narratifs »
TIPPING-BALL, Bethany-Alicia. « Everyday Life on Planet Jedward: Thinking of John and Edward Grimes. On Everyday Life as a Jedward fan »
WHITE, Daniel. « Middle-earth music: The sonic inhabitation of a fantasy world »
ZHENG, Yu. « « The screaming successor » : exploring the chinese metal scene in contemporary chinese society (1996-2015) »
Pratiques de fans
ALBERTO, Maria. « « The effort to translate »: Fan Film Culture and the Works of J.R.R. Tolkien »
HORNING, Misty Nichole. « Responding to the Storyworld of The Hunger Games through a Fan Fiction Fandom »
KELLEY, Brittany. « To my betas, endless chocolate frogs! : exploring the intersections of emotion, the body, and literacy in online fanfiction »
KUSTRITZ, Anne. « « They All Lived Happily Ever After. Obviously. » Realism and Utopia in Game of Thrones-Based Alternate Universe Fairy Tale Fan Fanfiction »
LAMMERS, Jayne C. « « The Hangout was serious business »: Leveraging Participation in an Online Space to Design Sims Fanfiction »
ROIG TELO, Antoni et Gemma SAN CORNELIO. « Being Lucky. Transmedia and Co-Creation Practices in Music Video-Clip »
STEIN, Louisa. « The Limits of Infinite Scroll : Gifsets and Fanmixes as Evolving Fan Traditions »
Science-fiction
KAC-VERGNE, Marianne. « Sidelining Women in Contemporary Science-Fiction Film »
MARTÍN, Sara. « Science Fiction in the Spanish University: The Boundaries that Need to Be Broken »
OHSAWA, Yuki. « Changes in the conceptualization of body and mind in Japanese popular culture, 1950 – 2015 »
WALTONEN, Karma. « Loving the Other in Science Fiction by Women »
Télévision
ABI-KHALIL, Tamara et Christy MADY. « Gossip Girl setting fashion trends: Lebanese young viewers' identification with media characters »
BILLINGS, Andrew C., Brandon CHICOTSKY et Fei QIAO. « Loving "Mapple Store" but Hating "Sprawl-Mart": A Case Study of Brand Parodies in The Simpsons »
BRETON, Justine. « Rire et faire rire de la guerre : Kaamelott (M6, 2005-2010) ou la mise à distance du conflit »
CALLENS, Melissa Vosen. « Applications in the Classroom: Pop Culture and Ed Psychology: What I Learned from Larry David, Rick Grimes, and Hank Hill »
CLÉMOT, Hugo. « La fin de Lost, le paradoxe des séries et l'expérience de la perte »
CHANG, Jiang et Hailong REN. « Empowerment through craziness: The German TV series Knallerfrauen and its female viewers in China »
COOK, Melody. « Joss's Jesus : Christ-figures in the Whedeonverses »
DESPRÉS, Elaine. « Sympathie pour les savants fous télévisuels. Stéréotypie, pathos et anarchisme »
DUQUAINE, Kelsey. « "There is only surrender": Over the Garden Wall's portrayal of anxiety and guilt »
FRITZ, Alice J. Marianne. « The West Wing and House of Cards : A Comparaison of Narrative Strategies of Two Politically-themed Dramas »
GALOPE, Ariane. « #PrettyLittleLiars: ABC Family in TV's Post-Network Era »
GRENIER-MILLETTE, Sarah. « Sherlock (2010) et la renaissance contemporaine du mythe holmésien »
GUILBEAULT, Ève. « Le drame de The Walking Dead »
KHARKINA, Ksenia. « It's Good to be 'Bad' : Exploring the Re-Negotiation of Female Virtue and Happiness in Once Upon a Time »
KIMBALL, Emily. « Textiles in Space: A Look Into the Use of Textiles in Space Age Fashion and Star Trek »
LI, Pei-ying Rashel. « Communicating science through entertainment television: How the sitcom The Big Bang Theory influences audience perceptions of science and scientists »
MIKOS, Lothar. « Digital Media Platforms and the Use of TV Content: Binge Watching and Video-on-Demand in Germany »
PICHARD, Alexis. « Homeland : un antidote à la guerre contre le terrorisme? »
PLANT, Cristina Helen et Ian James TURNER. « The Simpsons in Higher Education »
POTVIN, Jacqueline. « Pernicious Pregnancy and Redemptive Motherhood : Narratives of Reproductive Choice in Joss Whedon's Angel »
ROLDAN, Sébastien. « Réalisme et télévision. Le « faux pas » de 19-2, ou quand une série sort du cadre de sa sérialité »
ROY, Sarmistha. « Portrayal of Women Characters in Selected Contemporary Pakistani Television Drama »
STEINER, Tobias. « Steering the author discourse : the construction of authorship in quality TV, and the case of Game of Thrones »
TSE, Yu-Kei. « Watching Foreign TV in an Age of Online Sharing: The Cultural Implications of Cross‐border Television Experience »
WILLSEY, Kristiana. « "All That Was Lost Is Revealed": Motifs and Moral Ambiguity in Over the Garden Wall »
Autre
BÉDARD, Mégan. « Résurrection, immortalité et intertextualité : de L'Île au Trésor à Pirates des Caraïbes »
BRUNNER, Laura K. « Screening Diversity: Women and Work in Twenty-first Century Popular Culture »
CRISTOFARI, Cécile et Matthieu J. GUITTON. « Aca-fans and fan communities : An operative framework »
CRUCIFIX, Benoît. « Witnessing Fukushima Secondhand: Collage, Archive and Travelling Memory in Jacques Ristorcelli's Les Écrans »
DOMINGUEZ LEIVA, Antonio. « Les clowns maléfiques (1) : généalogie d´une légende urbaine »
HARTMAN, Laurel. « The Shojo Within the Work of Aida Makoto : Japanese Identity Since the 1980s »
MARTINS, Ana Rita. « Rewriting the Holy Grail: The Grail-Hero (From Arthurian Romance to Pop Culture) »
PASULKA, Diana Walsh. « Virtual Religion : Popular Culture and the Digital World »